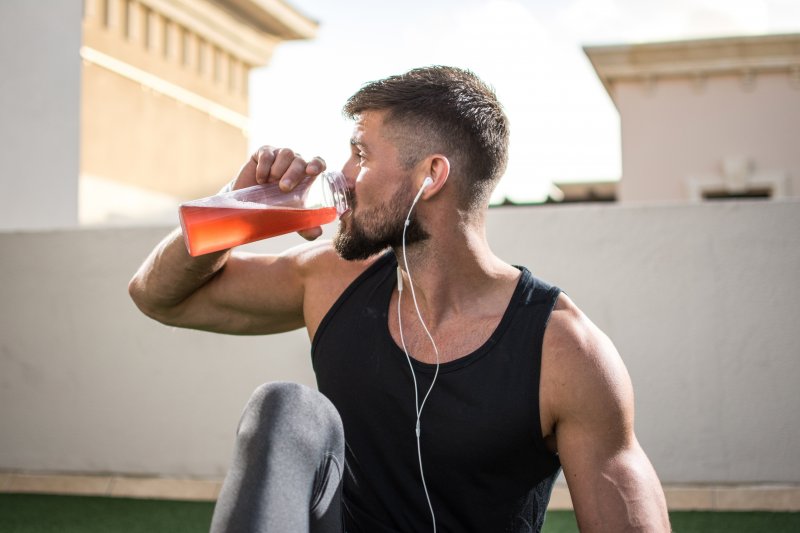 Whether you are just starting your active lifestyle or are a seasoned professional, staying hydrated is crucial to both your progress and performance. So, when you see your favorite athlete or fitness influencer sipping on energy/sports drinks throughout their day, you may think you should do the same. After all, if it's good for them, then it must be good for you, right? The answer may surprise you. Read on for why your dentist recommends reaching for water to protect your teeth.
Are Energy/Sports Drinks Bad For Your Teeth?
For decades, dentists across the U.S. have warned Americans of the dangers of sugary drinks. However, soda is not the only beverage that can wreak havoc on your teeth. In fact, a 32-ounce sports drink contains a whopping 14 teaspoons of sugar! Even worse, people often slowly sip on these beverages throughout their workout or practice, which continually exposes their teeth and gums to acids that eat away at the enamel. Therefore, it is important to save energy/sports drinks for special occasions, instead of using them as an everyday treat.
5 Reasons to Drink Water Instead
Although it doesn't have the pizzazz that energy/sports drinks do, water has proven to be the superior option time and time again. In fact, researchers have found that certain benefits of water are especially important for novice and experienced athletes alike. For example, it can:
Maximize physical performance.
Boost energy levels and brain function.
Aid weight loss.
Lubricate the joints (which helps prevent injury).
Regulate your body's temperature.
How Can You Protect Your Teeth?
To ensure your teeth remain in pristine condition, it is important to prioritize prevention. In addition to sipping on water throughout the day, make sure to:
Implement a good oral hygiene routine.
Read the labels on your food and drinks.
Visit your dentist for bi-yearly appointments.
Wear a mouthguard when playing sports.
Implement a clean diet that strengthens your teeth from the inside-out.
To ensure you achieve your fitness goals without compromising your oral health, opt for water throughout the day and during your workout. Not only will it keep you hydrated and well, but it will also ensure that your teeth are as strong and healthy as you are!
About the Practice
At Dental Dynamics, you can expect a team of friendly, experienced professionals who don't believe in "one-size-fits-all" treatment. Instead, Dr. Davidson, Dr. Yousuf, Dr. Katsnelson, Dr. Walchirk, and the rest of the staff take their time to create comprehensive treatment plans tailored to your unique needs. To get additional information on preventive measures you can take to keep your smile in tip-top shape, don't hesitate to visit their website or give them a call at 847-329-9801.