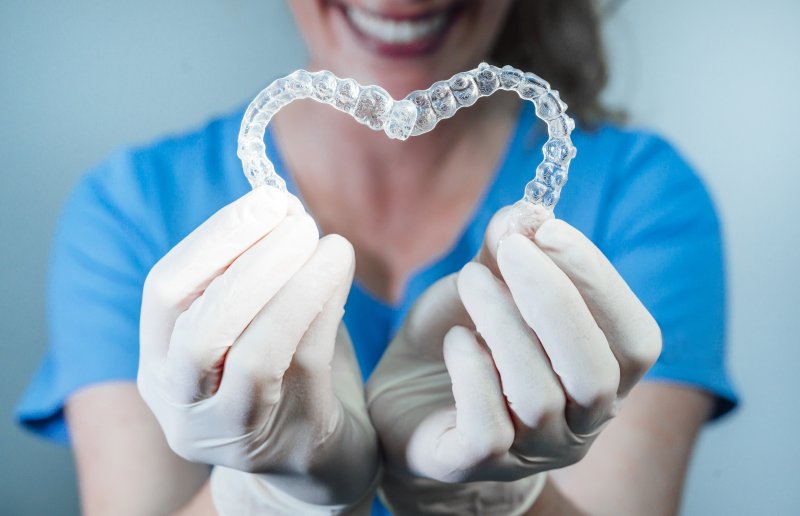 You've just received your first set of Invisalign aligners and are excited for your new, straight smile. Going through the process of straightening your teeth is an investment in yourself. You want to make sure that you're taking proper care of your aligners to get the best results possible. The aligners are made of plastic and need to be kept clean and intact. Your Skokie dentist has three tips to make sure you're taking great care of them. <
1. Brush Your Teeth After Every Meal
When using Invisalign, it's important to keep your teeth clean. You take your aligners out to eat and, if you're not brushing after each meal, food particles from your tooth can get trapped inside the aligners and cause you to be prone to cavities and gum disease.
2. Clean Your Aligners After You Brush
It's important to keep the surface of your aligners clean and sterile. After brushing your teeth, you can simply brush your aligners with a soft-bristled brush and toothpaste. Hot water can cause the plastic aligners to warp, so be sure to use lukewarm water. If you drop your aligners in an unsanitary place, make sure to clean them before putting them back in your mouth.
3. Tell Your Dentist if You Break an Aligner
Compliance is key when it comes to getting the best results from Invisalign. If you don't wear your aligners for at least 22 hours a day, your teeth can shift back, leading to a longer treatment time. If you break an aligner, tell your dentist right away. They will be able to help replace it quickly so that you don't lose progress.
The Invisalign process requires very little work on your part. Be sure to keep your mouth and aligners clean and to wear them as often, if not more often, than your dentist recommends. In a handful of months, you'll have a beautiful smile that you're proud to show off. If you're embarrassed by your smile or simply want an upgrade, Invisalign might be the perfect option for you.
About the Author
Dr. Jon Davidson loves to give his patients straight, beautiful smiles. Since he was twelve years old, he's been fascinated by orthodontics. Since graduating from dental school at the University of Detroit Mercy, he has spent countless hours continuing his education to be able to provide the best that dentistry has to offer. He is a member of organizations like the American Dental Association and the Illinois Dental Association and takes pride in refining his craft. He has even undergone advanced training in dental implants and Invisalign. If you think you'd like to see if you are a good candidate for Invisalign, he and his team at Dental Dynamics would love to help you. The office can be reached by email and over the phone at 224-601-8075.