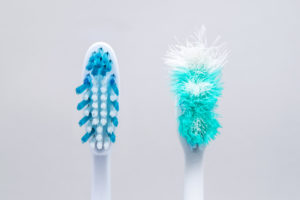 Have you taken a close look at your toothbrush lately? Even though we use it twice a day, it can be difficult to tell when your toothbrush has become worn down. However, keeping it past its prime could end up doing your pearly whites more harm than good. Your Skokie dentist explains a few key indicators it's time for a new toothbrush, and what can happen if you keep using your old one.
Signs It Is Time for a New Toothbrush
It's common knowledge that toothbrushes aren't meant to last forever, but when do they outwear their usefulness? According to research from the American Dental Association and toothbrush manufacturers, you should replace your toothbrush:
After using it for three to four months.
As soon as the bristles become frayed or flattened.
Once you've recovered from a contagious illness such as a cold or the flu.
What Happens if You Keep Using an Old Toothbrush?
You can't keep your smile clean with a dirty or ineffective toothbrush. The bristles will be bent out of shape after three to four months, or sooner if you brush your teeth too hard. Studies show that frayed bristles can lead to:
Bad breath: Old toothbrush bristles can trap previously removed plaque, bacteria, and bits of food, then reintroduce them into your mouth the next time you brush your teeth. As these particles are broken down, they release foul odors that cause bad breath.
Oral infections: If the bristles become loose or detached while brushing, they can be accidentally lodged between your teeth and gums. This could lead to irritation, sores, and eventually even oral infections.
Plaque buildup: Simply put, frayed toothbrush bristles leave behind a considerable amount of plaque. Even if you brush your teeth for two minutes twice a day with your old toothbrush, you're at a higher risk of tooth decay, gum disease, and other oral health infections caused by plaque buildup than if you were using a new one.
What to Look for When Replacing Your Toothbrush
When choosing your next toothbrush, always look for the ADA's Seal of Approval. This indicates that the product has been thoroughly tested and meets high standards of quality, safety, and effectiveness. Traditional manual toothbrushes are easy to use, convenient to keep with you, and give you full control over your brushing speed and pressure. Modern electric toothbrushes can be slightly more complicated to use and travel with, but they offer a variety of useful features like timers, sensors, and modes. Whichever you choose, pick an option you can hold easily, that can comfortably reach all your teeth, and has soft bristles.
Brushing your teeth is essential to both a beautiful smile and good oral health, so it's important to do it right! Replace your toothbrush every three to four months to keep your smile happy and healthy.
About the Practice
At Dental Dynamics in Skokie, IL, we truly believe an ounce of prevention is worth a pound of cure. That's why Dr. Jon Davidson and his highly trained team of specialists recommends getting a dental checkup every six months. They use state-of-the-art dental technology like the CT/ Cone Beam Scanner and a digital impression system to ensure you are as comfortable as possible when getting the excellent oral health care you deserve. They're also always happy to take the time to go over the best ways to care for your smile at home, so if you have more questions about when to replace your toothbrush, feel free to contact them via their website or at (847) 329-9801.