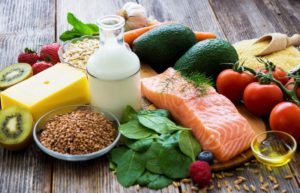 When you think about food and your oral health, you probably think about how sugary treats cause cavities. However, your pearly whites aren't the only part of your smile that your diet influences! What you choose to eat also has a big impact on the health of your gums. If you eat too many unhealthy foods, your gums could become infected and develop gum disease, which could lead to tooth loss and larger health issues. Thankfully, keeping your gums healthy could be as simple as adding a few healthy choices into your diet. Here's what your Skokie dentist recommends eating for improved gum health!
Raw Cucumbers, Broccoli, and Carrots
Raw vegetables have a garden variety of nutrients that help many parts of your body. Crunchy raw vegetables like carrots, broccoli, celery, cucumbers, and bell peppers contain important vitamins that keep your gum tissue strong and healthy. Additionally, watery vegetables that are high in fiber scrub your teeth as you chew them, which removes plaque. Not only does this help to prevent tooth decay, but it protects your gums from the harmful bacteria plaque contains.
Oranges, Cantaloupe, and Spinach
Your mouth is naturally full of bacteria, which can normally be controlled with regular brushing and flossing. However, if your gums are unhealthy or your immune system is weakened, a bacterial infection known as gum disease may develop. This infection can grow and cause permanent damage to the gum tissue, tooth loss, and larger health issues like heart disease.
Thankfully, you can naturally aid your body's defense against infection by eating more foods with vitamin C. This important nutrient boosts the immune system to fight off and prevent infections. Citrus fruits like oranges, lemons, and pineapples are brimming with vitamin C, but their acidic nature can damage your teeth over time. Other sources include spinach, broccoli, sweet potatoes, and cantaloupe.
Eggs, Nuts, and Cheese
Low-fat dairy products are a popular choice for strengthening teeth, but they're also beneficial to your gums. Some items like cheese, yogurt, and cottage cheese may be particularly helpful thanks to a unique protein called casein. This protein can neutralize the acids created by bacteria, which would otherwise damage and irritate your gums. Calcium and phosphorus are also important for strengthening your gum tissue and keeping your teeth anchored in place. This important mineral is well-known for being in dairy products like milk, but it can also be found in other foods as well. For a dairy-free boost in calcium, try eating more canned salmon, almonds, tofu, and leafy greens.
Remember, what you eat impacts more than just the health of your teeth. Substituting sugary snacks for these healthy ones is an easy, delicious, and natural way to improve your gum health!
About the Author
At Dental Dynamics, we want to make it as easy as possible for the families in Skokie, IL and the surrounding communities to get the happy, healthy smiles they deserve. Our talented team of highly trained dentist strive to expertly, comfortably, and efficiently meet all your dental needs under one roof. They understand just how important it is to take great care of your oral health at home, so they're always happy to share practical tips and tricks for keeping your smile healthy in day to day life. To learn more, feel free to contact them via their website or at (847) 329-9801.