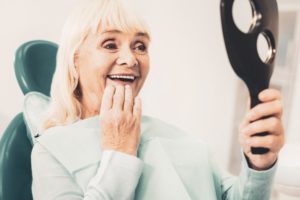 When you were little, you might have been excited to show everyone when you lost a baby tooth. However, now that you're an adult, you're probably not as excited about those gaps in your smile. You may start to find yourself talking less, reluctant to smile, or simply having a difficult time enjoying daily life because of those missing teeth. Thankfully, dental implants can rebuild your smile and your self-esteem! Here are five ways dental implants can restore your confidence.
Regain a Smile That Looks and Feels Its Best
Replacing your missing tooth with a dental implant will make it look and feel like it was never gone in the first place. In fact, many patients have a difficult time distinguishing their dental implants from the rest of their natural teeth! Since they're so lifelike and comfortable, you can continue enjoying all your favorite foods and activities without worry.
Dental Implants Keep You Looking Younger
As soon as a tooth goes missing, the jawbone begins to deteriorate. Over time, this will cause changes to your facial structure and make you look older. Dental implants are designed to recreate the missing tooth's roots with small titanium posts. Not only does this provide stability and durability for your new tooth, but it also stimulates blood flow in the jawbone to prevent reabsorption.
Eat What and Where You Like with Dental Implants
A missing tooth or loose dentures can make it challenging to confidently enjoy your meals. Instead of savoring your favorite food or appreciate going out for a meal with family and friends, you may be embarrassed or frustrated with your ability to eat comfortably. Dental implants are incredibly durable and can restore more than 80% of biting power, allowing you to focus on more important things instead.
Dental Implants Stay Rock Solid as You Talk and Laugh
Other tooth replacement options like dentures can become loose over time. Eventually, simply talking or laughing may be enough to make them move or slip out of place, which can be distracting and embarrassing. With dental implants, you'll never have to worry about them losing their fit or shifting out of place in your daily life.
A Permanent Solution for Your Smile
Unlike dentures or dental bridges that need to be replaced every 10-20 years, dental implants offer a permanent solution for missing teeth. They don't require any special cleaning tools or solutions, just a regular routine of brushing and flossing. With the proper care, you can expect your new smile to last you a lifetime.
You don't have to be embarrassed about your missing teeth any longer. Talk to your local implant dentist about how dental implants can help you rebuild your smile and your confidence!
About the Practice
No matter how many teeth you're missing, you can count on dental implants from Dental Dynamics in Skokie, IL to restore your beautiful, functional smile. We use state-of-the-art technology like the CBCT scanner to create precise, personal treatments to meet your individual dental goals and needs. Additionally, our highly experienced team of experts can handle every step of your treatment right here in office—no referrals or new dentists required! If you'd like to discover if dental implants are right for you, feel free to contact us via our website or at (847) 329-9801.